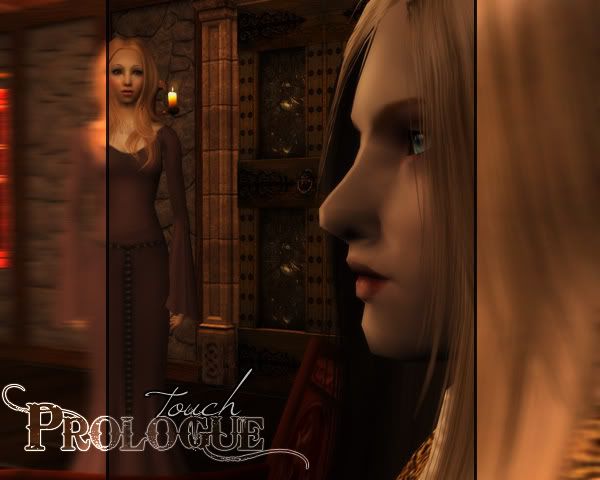 Title: Touch
Genre: Undefined
Characters: Abigail Alexander, Eckhard Koenig
Story Origin: Prologue to Knock it Down, Wings of Steel
Prompt: 038. Touch
Word Count: 897
Rating: PG
Summary: Abigail learns more than she wanted to about Eckhard.
Warnings: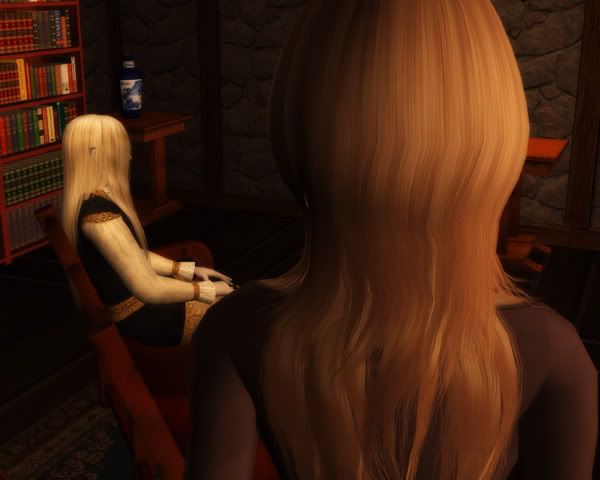 Abigail stepped into the room, not bothering to knock. She had known it was rumored that Eckhard lurked about this part of the castle, but she truly hadn't expected to find him. She was just peeking in before she headed off to bed. Much to her surprise, he was seated on one of the chairs, staring blindly forward. Her footsteps on the hard wood floors caused him to stir. She suddenly felt sheepish for intruding.
"I'm sorry," she called out, moving to the side of the chair. "Did I startle you?"
"I am rarely startled." He bristled in response.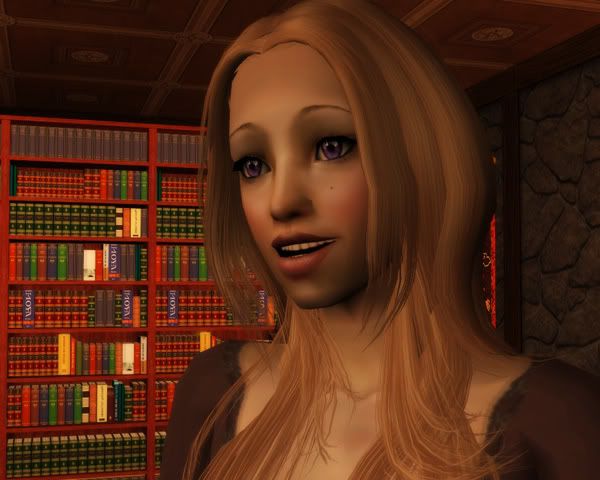 She ignored his hostility and looked around the room at the walls lined with books. It was a makeshift library of sorts and it was very odd to find a blind person amongst books he could never hope to read. Foolishly, she voiced the absurdity of this.
"Is it not a bit odd for you to be here?" She said without thinking, instantly regretting her words. She tried to make up for it, but failed miserably. "I-I didn't mean… to insult you, just that, well, you're blind–"
"I am not here for the books, but for the solitude," he said, emphasizing the last part of his sentence. "Unfortunately, it seems I have misread the barren nature of this particular room."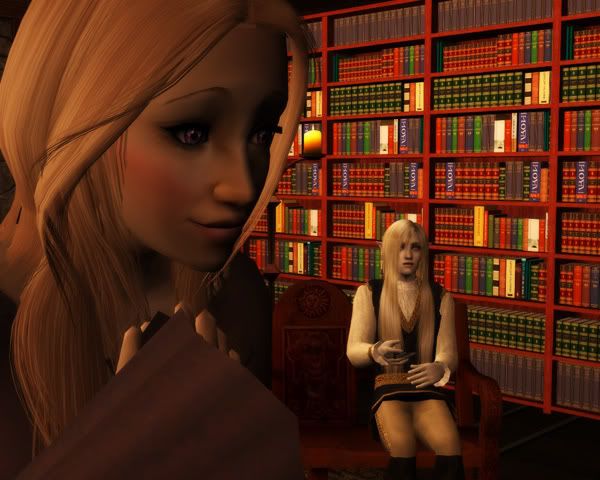 Eckhard listened as she crossed the room, nearing the fire. She had no intention of leaving and he could sense no fear from her. What was the meaning of this? He had been the one to capture her and she had certainly been terrified then. What had brought about this change?
"You don't fear me, do you?"
Once again, Abigail ignored him, "you've got a fire in here, too. Do you get cold?"
"No," he sighed, wondering why he bothered answering her petty questions. Her voice was like a soft chime in the wind, gently tinkling in the softest of breeze. He shook his head, trying to escape its charm. "I rather like the sound of the fire crackling."
"It's very warm," she said, smiling. She warmed her hands a moment before approaching him.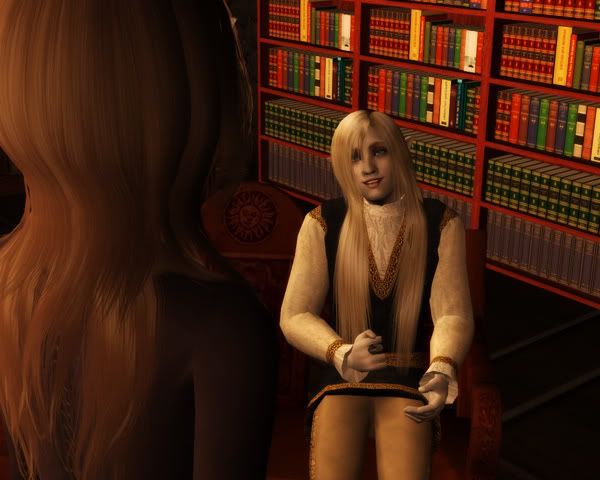 "Would you like to see?" It was a simple question, one that had never been put to him in such a careful and light way. He could imagine her smiling impishly, the inflection of her words filled with merriment.
"I did, at one time," he replied, finding his lips moving into a smile. Why? He quickly regained his senses and said harshly, "but that was a long time ago. I cannot see and I do not wish for what cannot be. It is senseless."
He heard her skirts move and he felt something close to him. It was her hand. She was offering it to him.
"Take my hand, Eckhard."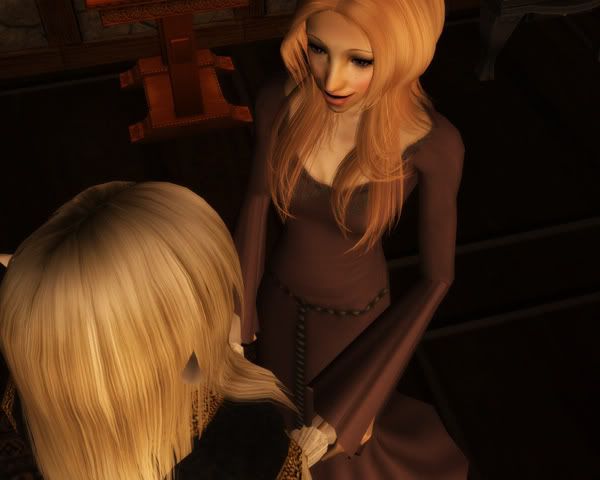 Eckhard wasn't sure what compelled him to oblige her, perhaps it was the promise of the touch of her small hands or simply to keep her there longer. He had tried his best to avoid her simply because she overwrought his senses with things he had never thought possible. Now, the smooth caress of her tiny hands in his own was almost too much to bear. Their fingers intertwined and he felt her mind pushing against his own.
"Relax," she said softly, her voice sounding as if it were his own mind's echo. Were her lips even moving? "This won't hurt."
It was like a wave that crashed over him, threatening to force him backwards. He stood his ground, resisting the urge to fight against it. It washed over him, a warmth spreading throughout his body. He could feel her influence, he could hear her urging him to open his eyes… and so he did.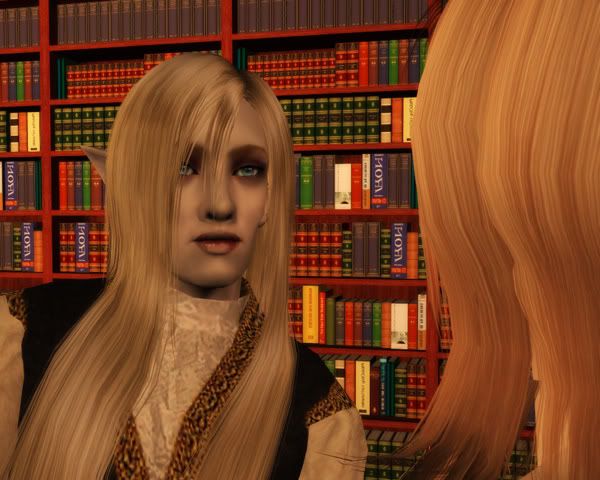 He saw her then and she was exactly as he imaged, perhaps even better. The smooth contours of her face, the small lips, the large, innocent eyes. Her head was framed in a halo blonde that cascaded and fell past her shoulders in sweeping motions. She spoke, but he did not hear her, he simply focused on the way her lips parted and how her eyebrows rose.
Could she feel what he felt at that moment? His head was swimming and while he knew he should remain guarded, he found it impossible. He was just too overwhelmed. Her influence, her energy, it was so pure and whole. It consumed him.
Abigail, meanwhile, was straining. She had only meant to give Eckhard sight, but she couldn't keep from probing deeper. His guard was gone and she found herself inundated within his darkness. There was no conceivable end to it and the more time Abigail spent, the more she felt as if she would drown and never return. Her lungs burned in her chest and her eyes watered in distress.
Forcibly, she removed her hands and before Eckhard could catch himself, she was gone. She had fled out of the room, barely able to close the doors behind her. Her body shook with tremors that night and her mind was filled with terrors of which she had never thought imaginable.
Finally, we see some interaction between Eckhard and Abigail! Sorry the text for this one sucks. Maybe next time.