Title: Sight
Genre: Undefined
Characters: Abigail Alexander, Eckhard Koenig, Antonius Veta
Story Origin: Prologue to Knock it Down, Wings of Steel
Prompt: 040. Sight
Word Count: 984
Rating: PG
Summary: Eckhard lends Abigail a hand.
Warnings: None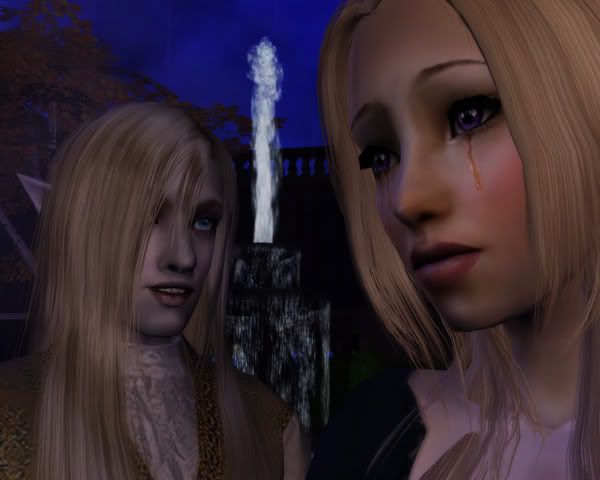 Eckhard had come upon Abigail standing in the garden listlessly. She did not greet him as he approached with her soft, mirthful voice. Instead, she remained silent, her breaths heavy and laden with emotion. Being blind, he could not see her tears, but he knew she was crying.
"Abigail?" He ventured, wondering if she had even noticed he had joined her.
She jumped, giving him the answer he needed, "E-Eckhard? Sorry… you startled me."
It had been raining for hours now, the small, wet droplets falling on him and making him sodden. As he reached out to touch her sleeve, he realized she was completely soaked. How long had she been out here?
"Abigail, it's raining. You should be inside."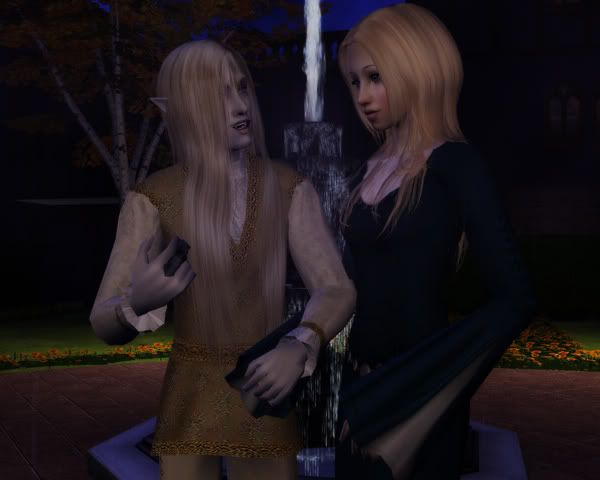 His hand moved down the cloth of her sleeve, cold and damp from the rain. His fingers were met with droplets that moved down her tiny hands and fingers, descending to the earth. She was frigid, more so than he was. It was a worrying thing and a nature he did not recognize in himself came to life. He took her hand tight in his own, as if he had any warmth to provide her with.
"You should come inside, you're colder than I am," Eckhard began, "Standing out here is senseless."
Abigail knew he was right. She was thankful then, for his blindness, for he couldn't see the mark she bore on her lip. It had been an unfortunate thing. She didn't know why she stood waiting. Perhaps it was because it had become a habit of hers, one that had also become known to Libitina. She saw little amusement in the games Abigail played, nor did she enjoy how the young girl so sought the company of Antonius.
The thought of Antonius caused her to pull her hand away from Eckhard's. She moved it to her shoulder, hugging her cold, clammy body tightly in an attempt to build some warmth. Truly, she hadn't noticed how frigid she was until Eckhard mentioned it. She'd been too lost in her sorrows to care.
"You may even use the fire in the library, if you wish," Eckhard continued, trying to coax her inside. "I am told it provides a great bit of warmth."
A smile tugged at her wounded lips, her spirits lifting. It was a joke, this she knew, because it was her that had said of the warmth. It seemed like forever ago, but it had only been months. How long had she been here? How long would she continue to be here? It was a thought she didn't want at this particular moment. She cast it aside and welcomed Eckhard's assistance.
"I am surely curious of how you manage to light it," she responded, still smiling, though she did not turn to face him. She didn't want to see his eyes narrow at her rebuke.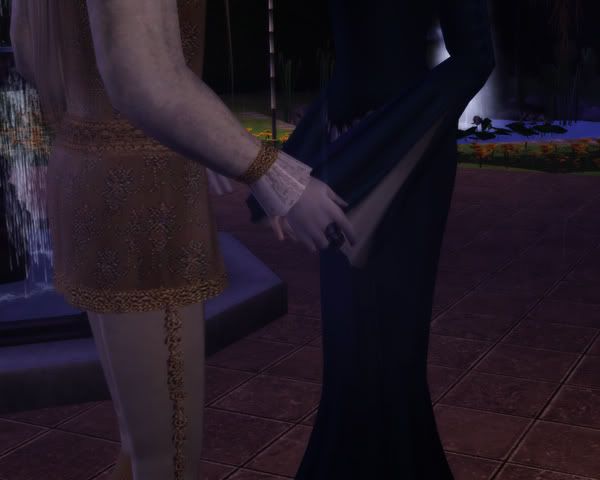 Instead of becoming angry, he turned to her, snatching her hand. Her fingers were soft and cool against his own, the moisture from the rain like a mist. A rueful grin found its way to his pale lips and he spoke.
"Blind I am, but incapable, I am not."
She laughed, taking her hand back, "How did you do that?"
"Come inside and I will tell you," he replied, offering his arm.
Wiping away her tears, she took her arm and allowed him to guide her towards the large doors. She couldn't deny that the warmth of a fire would be welcome.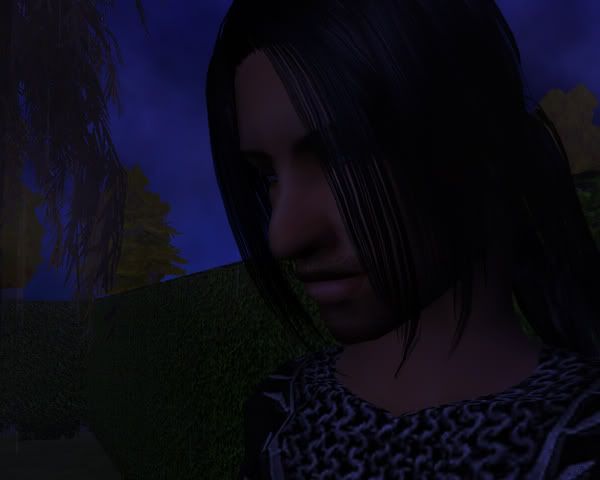 It was at that moment that Antonius returned, sent on one of Libitina's silly errands. He suspected she simply wanted to keep him from idling around the castle. Since he did his best to avoid her direct company, Libitina had taken to tasking him with senseless busywork. It was all an effort to keep him away from Abigail. Unfortunately, she did not have the foresight to see that it was allowing Eckhard to move in where Antonius could not.
His senses were aware of them before he was. Silently, he moved through the darkness.
Antonius watched as Eckhard led Abigail to the large doors. She was holding his arm and partially leaning against him, as if she were weary. Her clothes were soaked, sticking to her limbs, giving one an improper view of what lie beneath. Thankfully, it was dark, but the corridors would be lit by candles. What was she doing with him? Was she not aware of the danger?
A voice in his head ventured forth to inform him that he was just as dangerous, if not more. He recalled the scene from two weeks prior and cringed at himself. He withdrew back into the shadows, his haste to act overcome with his need to remain hidden. He had no right to interfere.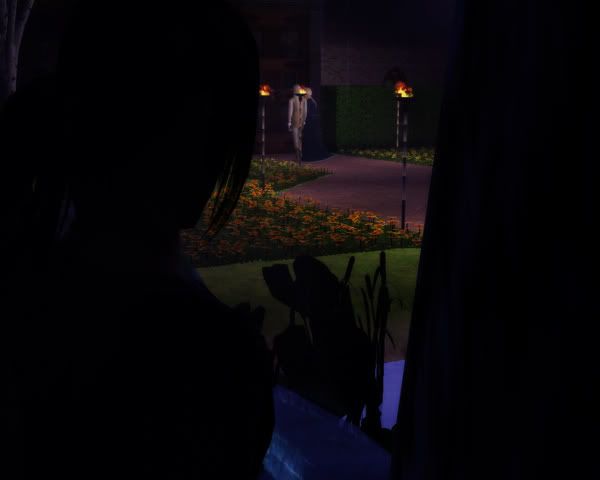 Abigail released Eckhard's arm so that he could unlatch and open the large, hulking doors. He allowed her to enter before following and closing the doors behind them. Antonius watched until they were gone and then he turned back towards the wall, vaulting over it.
There was no way he could enter as carelessly as they did. If he were to see them, his emotions would get the better of him. It was best he stayed where he belonged, at least for the time being.
Libitina would realize her error soon enough.
It seems like forever since I've done one of these! In truth, it has been, but my sense of time is quite warped. I finished my NaNoWriMo yesterday, so it's back to work on The Sims 2 stuff. Oh, and can I just say how awesome the new improvement of GunMod's lighting hack is? It's freaking amazing. No more needing a bajillion lights! Woo!
Tags: sight