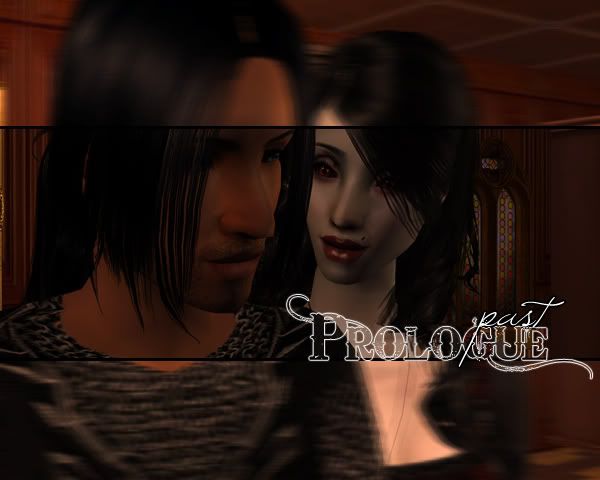 Title: Past
Genre: Undefined
Characters: Antonius Veta, Libitina Aurelia
Story Origin: Prologue to Knock it Down, Wings of Steel
Prompt: 019. Past
Word Count: 960
Rating: PG-13
Summary: Libitina asserts herself.
Warnings: Sexual References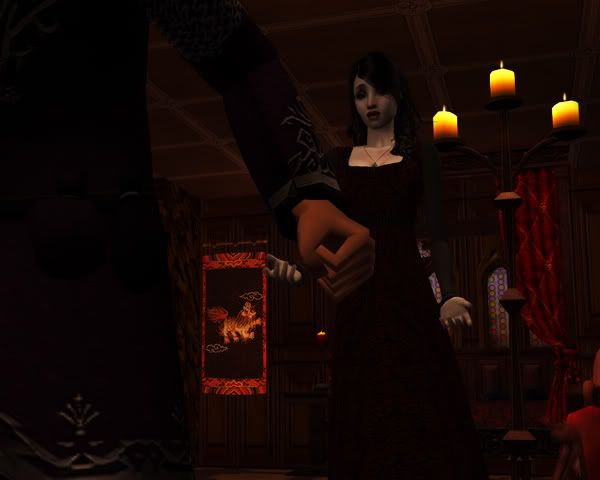 Antonius poked at the fire, the long, metal instrument eliciting an array of sparks. He heard her before he felt her–her skirts brushing against the floor, rustling ever-so-slightly. Despite his notice of her, he did not physically acknowledge her, aside from the slight twitching of his clenched fist. She watched him carefully for a moment, noting the rigid nature of his spine and the deep breaths he was drawing.
"Antonius," she said simply, guarding her voice from any hint of malice or interest. It was an attempt to gauge his mood.
His grip on the poker tightened and for a single, fleeting moment, he thought of using it. The thought left as quickly as it came and he relinquished it back to its holder.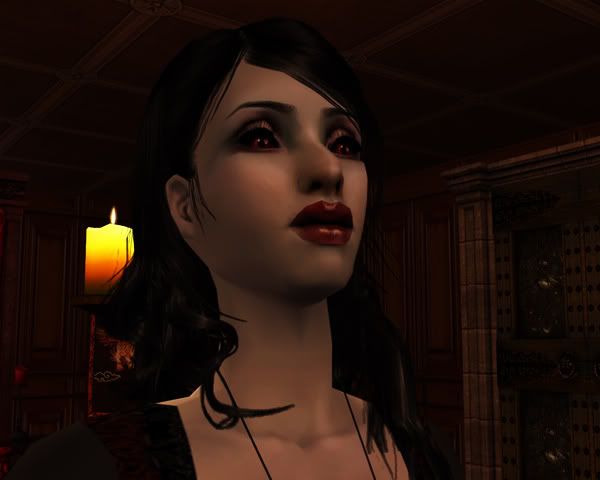 "Do not think yourself so guarded as to make me ignorant to your thoughts," Libitina warned, her own posture growing rigid. She watched as he stood his full height, arms lax at his sides. He was angry, but it was the kind she could control and twist to her own use. "Have you grown to hate me so? I see no reason for your wish to injure me, Antonius. I have given you everything and more."
At this, Antonius was unmoved, "It was convenient for you. I am not as stupid as I once was, Libitina. I can see as clearly as any your reasonings."
"I, however, do understand what you hope to win by hurting Abigail." He closed his eyes, lips tightening as the words left his mouth. It was difficult to hold back his rage, to resist the urge to lash out. "The blind vampire might be a fool to miss it, but I am not. It is not the first mark you've left."
"Do you know her so personally now to know all those bruises she hides?" Libitina snapped, unable to keep her composure.
Antonius did not take the bait, "I do not need to, you have just told me all that I needed to know."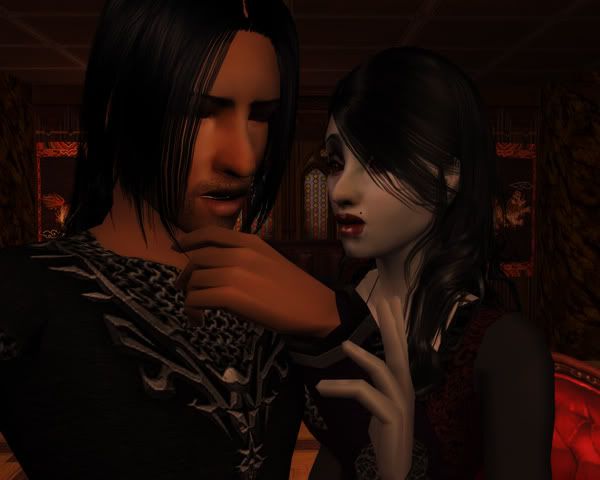 For the first time in a very long time, Libitina found herself startled and at a disadvantage. She quickly moved to his side, watching as he tried to move away from her hands. Revealing her little 'visits' with Abigail wasn't her intention, she simply thought that Antonius had seen them personally.
"I am not such a fool to miss when someone is trying to turn my own against me," Libitina offered, her pale hand catching his sleeve. Her mouth was close to his shoulder, her voice moving into his ear like a siren's song. It's tone, it's very inflection caused the blood within him to wake. "I am simply trying to protect my interests. I will not lose everything to some simpering little child!"
"She is no threat to you," Antonius said, trying to fight off the blood's influence. It was a horrible side-effect of having been with Libitina for so long. She could control the blood within him and twist his strings like a puppetmaster. "If she were, you would never have sought her."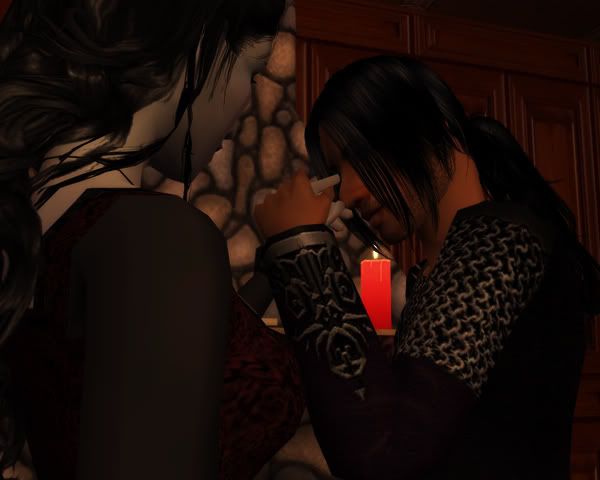 Antonius turned to face her before realizing his mistake. Her hand moved to his face and he caught it, her pale finger hovering just above his nose. She touched it gently, working against his strength, her full lips caught in a triumphant smile. It was working.
"Stop it," he demanded, squeezing her hand, causing her to cry out. She did not, however, draw it back. "Stop this right now."
"You have been loyal to me all this time, Antonius," Libitina insisted, her voice a purr, a whisper in his ear that sent tremors down his spine. She was moving closer to him, her soft hand moving against his roughness of his chin. "Would you forsake me for such a poor prize? For that little girl?"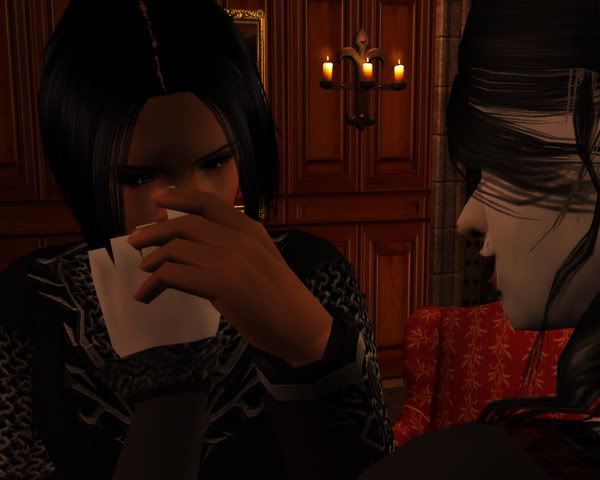 "You think it is wrong for me to do this? It is not. I am simply clearing away the clouds from your mind. I am giving you the sight to see what is true and real," Libitina continued, only for him to catch her hand as she moved to touch his nose again. "Why do you resist? Do you wish to blinded so badly?"
Antonius was still trying to fight off her influence and ignore the false warmth that built within him at her touch. It was a game, a slight of hand. He knew this, but his mind and his body refused him, pushed at him. It moved within him with such a force he feared he would never be free of it.
"She does not control me," he insisted, his voice strained. He was losing.
Libitina moved closer still, "Do not be a fool, Antonius. She controls you worse than I do. You are sniffing after her innocence like little more than a dog. Do you think she does not know this? Men are such simple-minded creatures."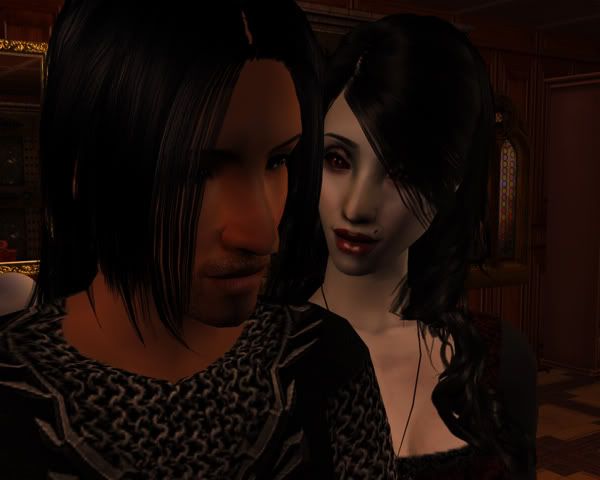 She was behind him now, her movement too fast for his muddled mind and eyes to register. He felt her pressing against him, her lips at his ear. Her voice was like a powerful drug, moving his limbs, manipulating his thoughts. He was lost to himself, to her whims. Her hand moved up his back, fingers traveling up his spine like creeping death.
"We have too much history, you and I. It has always worked, always. You have been ever-faithful to me and I know that cannot be replaced so easily. I seek not to do so, I simply wish to add to the equation." Her lips were brushing against his skin now, sealing his fate. "Nos es eternus, meus vernula…"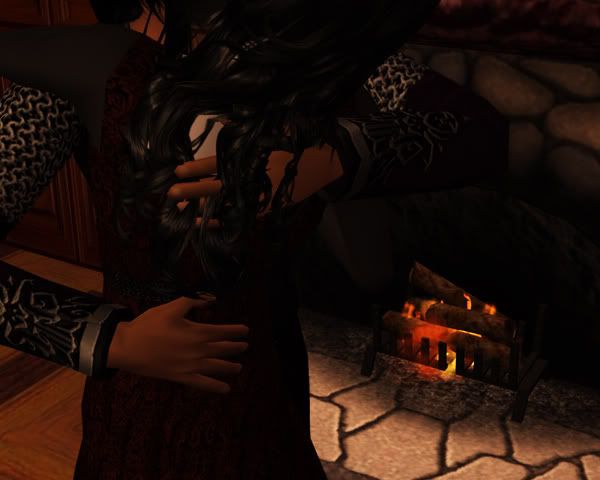 His body moved as if propelled by an invisible force, his mind fogged and unable to concentrate. Her voice was still in his ear, though her lips were against his own. There was no warmth in her body, but her skin was as soft as any. It was a primal urging, brought about by her manipulations. The blood within him stirred at her every touch and every brush of his hand against her exposed skin. His hand caught in the tangle of her hair and he was gone.
I had better ideas than the execution of this. Blegh. Mostly because the lighting messed me up. And then the fiance is here and I just can't write as well. Not to mention I lost my idea for the scene after I took the damn pictures. Ah well. Crap happens. It isn't the first crappy thing on here and it won't be the last!
Tags: past